Hollandcodes.com was honored to be chosen to be present at the 2012, 2013, 2014 2015 National Career Development Conferences (NDCA).
Title: Convergence of Media Technology and Career Development
Abstract: Elementary and middle school digital learners are waiting for the convergence and synchronization of career development principles with today's electronic media.
Career development professionals are developing computing devices applications for the Media Generation.
Share your ideas using a variety of social media tools -
Issuu
Evernote
Prezi
Wordle
Convergence of Media Technology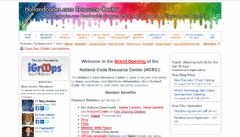 Hollandcodes.com is maximizing our use of social media tools.
Social media tools are mobile and web technologies, e.g. Facebook, Linkedin, and Twitter.
Media technology promotes social networking, using already existing contacts to meet new people as potential social or business links.
 According to Michael Wu, Ph.D., two major types of media tools:
 Media Technology helps us -
Generate highly powerful traffic

Promote your products

Access to customer's feedback

Announcing new products or services

Discover your customers' preferences
Review the examples, highlights, descriptions, illustrations, and contact information for these applications -
Career Development &
Media Technology Applications
Resource One: Blogs
A blog is a collaborative space, resource outlet, a collection of links, discussion forum, or information site.
Hollandcodes.com has 3 blogs that broadcast information about -
Career development
Social media
Career education
Career assessment tests
Holland Codes resources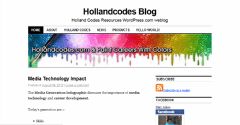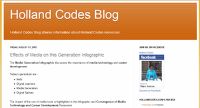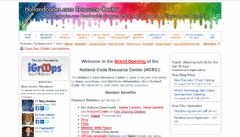 Resource Two: Constant Contact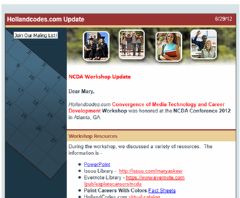 Constant Contact is an email marketing service. Constant Contact®, Inc. helps small businesses, associations, and nonprofits connect with their customers, clients, and members.
Sign Up for our Constant Contact List.
Resource Three: Delicious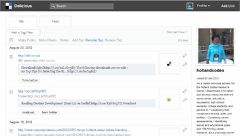 Delicious is a place to share videos, pictures, tweets, blog posts, or articles. Hollandcodes.com uses Delicious to highlight career development, career assessment, college major preparation, and social media topics.
Resource Four: Evernote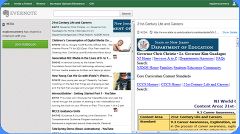 Evernote is a suite of software and services designed for note taking and archiving.
With Evernote, all of your notes, web clips, files and images are made available on every device and computer you use.
Here are examples of two Evernote applications -
Resource Five: Facebook

Facebook has 70,000 users, 3 million daily pageviews and 90 million monthly pageviews. Hollandcodes.com uses Facebook to display information about a variety of career development and social media topics.
Resource Six:  Career Social Media Resource Center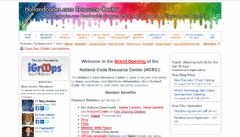 Resource center is an innovative website platform that specializes in creating social networks. A social website is an interactive website where members can connect with other members and/or those who run the site.
The Resource Center is open to anyone who wants to share, purchase, and distribute information about Holland Code, kid career tests, and career education resources.
Resource Seven: Infographics
Infographics are a visual way to present information. The Marketing TechBlog discussed 4 Simple Online Infographic Generators.
The Hollandcodes.com Career Development Infographics reveal the information about career development and social media.
Here are examples of Career Development Infographics.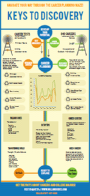 Click to see full-size infographic.
The Holland Codes Infographic displays information about Holland Codes.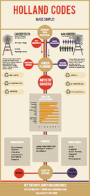 Click to see full-size infographic.
The Media Generation Infographic provides facts about the need for the convergence of media technology and career development.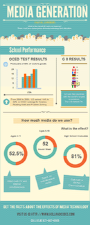 Click to see full-size infographic.
Resource Eight: Issuu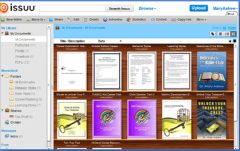 Issuu is the leading digital publishing platform delivering exceptional reading experiences of magazines, catalogs, and newspapers.
Issuu has introduced digital publishing to 52 million monthly readers.
 The Hollandcodes.com Issuu Library highlights some of our career development products.
Resource Nine: Linkedin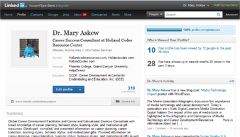 LinkedIn is the world's largest professional network with over 175 million members and growing rapidly.
On Linkedin, Hollandcodes.com shares information about current career development topics.
Resource Ten: Mobile Version of Your Web Site
You can access our mobile sites at -
Hollandcodes.com
Explorecareersandcollegemajors.com
Resource Eleven: Powerpoint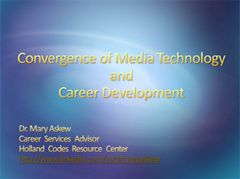 PowerPoint is still a popular tool.
Here are excerpts from 2012 National Career Development Conference (NDCA) in Atlanta, GA - Convergence PowerPoint
Resource Twelve: Prezi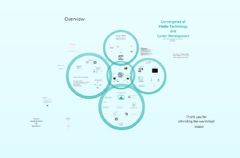 Prezi is a cloud-based presentation software that opens up a new world between whiteboards and slides.
The zoomable canvas produces presentations that allow you to explore and connect ideas.
Hollandcodes.com has developed a series of career development and media technology presentations -
Resource Thirteen: Scribd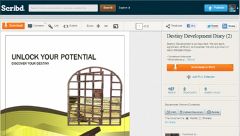 Scribd is the world's largest online library. Share content across the web and mobile devices.
The Hollandcodes.com Scribd library hosts a variety of presentations on Scribd.
Resource Fourteen: Slideshare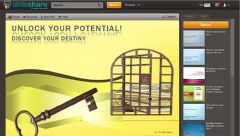 SlideShare is the world's largest community for sharing presentations.
SlideShare also supports documents, PDFs, videos and webinars.
On Slideshare, Hollandcodes.com discusses different career development topics .
Resource Fifteen: Twitter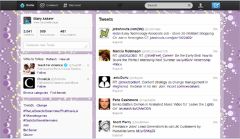 Twitter is an online social networking service and microblogging service that enables its users to send and read text-based messages of up to 140 characters, known as "tweets".
On Twitter, Hollandcodes.com follows different career, career development, educational, and social media experts.
Resource Sixteen: Wordle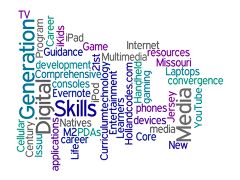 Wordle is a toy for generating "word clouds" from text that you provide giving greater prominence to words that appear more frequently in the source text.
Resource Seventeen: Canvas LMS and Digital Courses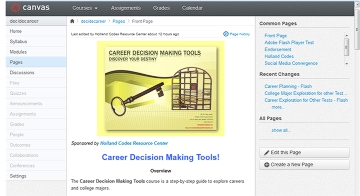 Canvas is a digital learning system that delivers resources and tools to clients of all ages.

Digital learning presents video lectures, career tests, activity sheets, and worksheets virtually so that students can access the resources and tools any time, any where.